Travel 
Delft is located centrally in the heart of Holland known as the Randstad region, between Rotterdam and The Hague. Delft represents Europe at its best, with fast connections to anywhere in the world. Both physically, boasting Amsterdam and Rotterdam The Hague airports in close proximity and countless international railway connections available, as well as in terms of its role in many international knowledge networks, alliances and businesses.
Delft's fine infrastructure makes it easily accessible by car and public transport. It is a compact city and all main locations inside its historic centre are well within walking distance.
Airport and motorway
From Schiphol International Airport, Delft is easy to reach via public transport or by special taxi, the so-called Schiphol Travel Taxi. There are nine trains per hour that make the 45 minute journey between the airport and Delft. For more information, please visit www.schiphol.nl/en/
Rotterdam The Hague Airport is the area's regional airport at just five kilometres from Delft. It offers fast and convenient services to many European destinations. For more information, please visit www.rotterdamthehagueairport.nl
Delft is connected to an excellent network of Dutch and European motorways, such as A12, linking the region with  Germany and the A16-A4, which connects it to Belgium.
Delft is centrally located within the European railway network, connecting it to Paris, for example. There are many local transport facilities to move delegate during a conference, such as tram, bus, taxi and water taxi.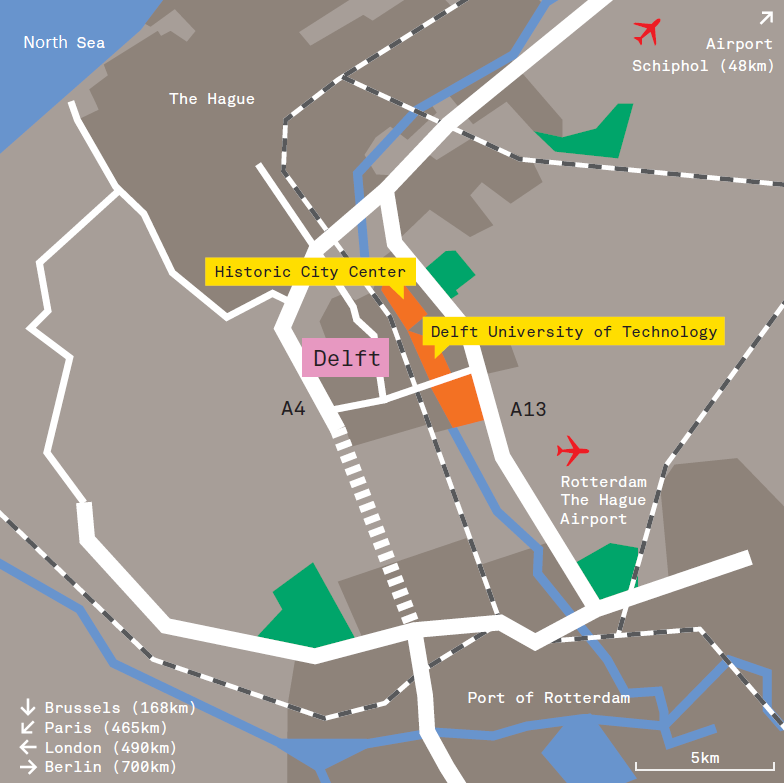 Train
The train is a great way to get around in the Netherlands as it can be busy on the road. Its extensive network covers a large area and is the fastest way to travel between the cities and larger towns. Trains are frequent, with one or two trains per hour on lesser lines, two to four trains per hour on average, and up to eight trains an hour on the busiest lines. The train network is also linked to trains traveling to for example Paris, London or Berlin. 
For more information on trains, tickets and time schedule, please visit www.ns.nl
You can use a single-use chipcard or an OV chip card to travel by train in The Netherlands. The single-use chipcard is perfect for incidental travellers. You can buy it at an NS ticketing machine or service desk. Single-use chipcards always cost 1 euro more per trip. You don't have to charge credit to the card but you do have to check in and out. If you plan to use the train more often while staying in The Netherlands, we recommend buying an 'anonymous OV-chipkaart'. If you want to travel by train, you need at least 20 euros worth of credit on your OV-chipkaart. You must check in prior to every trip and check out at the end. Look for the OV-chipkaart pillars on the station.
 
Busses, trams and metro


Busses: Busses are perfect for city or regional transport. With the 9292 

website

 you can plan your bus trip easily. Although there are a number of bus services, the busses are well connected. It is possible to buy a ticket in a bus, but it would be cheaper to use an OV chip card. simply check in when you enter the bus and check out when you have arrived at your destination. 
Trams: The tram is the ideal mean of transportation for the larger cities. You can easily hop on and off with your OV chip card, it is relatively cheap and you will also have a nice glimpse of the city.
Delft and The Hague are connected through tramline 1, which goes all the way to the beach at Scheveningen. Trams are very frequent. To travel by tram you can use an OV chip card or buy a ticket in the tram. However, this is more expensive. For more information, please visit 9292.nl/en
Metro: In Rotterdam and Amsterdam a metro network is perfect to travel through the city on a quick pace, as they are often faster then busses or trams. Tickets can bought at the ticket machine or simply use your OV chip card. For more information, please visit 9292.nl/en
Bicycles/Scooters


The Netherlands has a great public transport system, although it is also very much recommended to take the bike. The Netherlands is listed as the most bike-friendly country of Europe and for many Dutch it is their most frequent mode of transportation. There are seperated cycle tracks, bicycle-specific traffic lights and bicycle parking facilities.

In Delft, two companies have been licensed to offer shared scooters. These are GO Sharing and Check. GO Sharing also has a permit to offer electric share bikes.
TISOLS 2023

Registration website for TISOLS 2023
TISOLS organising committeetisols2023@tudelft.nl
TISOLS organising committeetisols2023@tudelft.nlhttps://www.tisols.org
2023-04-17
2023-06-15
OfflineEventAttendanceMode
EventScheduled
TISOLS 2023TISOLS 20230.00EUROnlineOnly2019-01-01T00:00:00Z
To be announced
To be announced